I am trying to learn how to implement my own learning model in Nengo by reviewing all of the following code:
My end goal is to implement a Generalized Linear Neural Model described best by this figure, where the dice represents a probability to obtain a spike: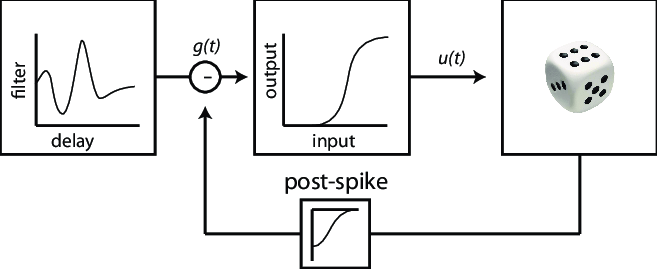 However, I cannot seem to get a grasp of how these functions work and what logic I am supposed to place in each function. For example, where do I place the logic for my activation function (sigmoid, originally I though this was the rates function), how do I use the step_math function to feedback the post-spike information, what does the max_rates_intercepts do, how does the LIF model described in the code work, etc. It seems I like lack some foundation as I am new to Nengo and only have studied the examples in the user guide and this code before attempting to program this neural model. Is there more material I can study to get a better understanding, preferably video tutorials or a step by step explanation (more in-depth than just the code) of how to implement a neural model?
I have posted other topics here before for a better understanding of this and other material and have understood it but I think I need a further understanding.