Hello everyone:
I know this may sound weird,
but I'm trying to apply PES online learning rule on ensemble (or EnsembleArray) to learn the association of the SPs.
e.g: feed pointer 'A' into an ensemble and output pointer 'B'.
Then I found out that this problem involves different levels in Nengo, SPA and network level.
So I've got a hard time on figuring out how to integrate two.
Finally, I did managed to run the sim in GUI.
But doesn't work as I expected.

I'll update the simulation result later. --DONE
the code is as below:
# Setup the environment


import numpy as np
import nengo
import nengo.spa as spa
from nengo.spa import Vocabulary
from nengo.spa import BasalGanglia
from nengo.spa import Thalamus
from nengo.dists import Uniform
dim=16 # Number of dimensions
N=32 # Neurons per dimension
N_conv=64 # Number of neurons per dimension in bind/unbind populations
N_mem=32 # Number of neurons per dimension in memory population
ZERO=[0]*dim # Defining a zero vector having length equal to the number of
# dimensions

#Creating the vocabulary


rng = np.random.RandomState(15)
vocab = Vocabulary(dimensions=dim, rng=rng, max_similarity=0.05)
TOM = vocab.parse('TOM')
ALICE = vocab.parse('ALICE')
JOHN = vocab.parse('JOHN')
EDWARD = vocab.parse('EDWARD')
START = vocab.parse('START')
ZERO=vocab.add('ZERO', [0]*dim)
model = spa.SPA(label='Online Learning of Sequences in LTM', vocabs=[vocab])
with model:

def visual_input(t):
    if 0.1 < t < 0.25:
        return 'TOM'
    elif 0.3 < t < 0.45:
        return 'ALICE'
    elif 0.5 < t < 0.65:
        return 'JOHN'
    elif 0.7 < t < 0.85:
        return 'EDWARD'
    elif 1.1 < t < 1.25:
        return 'TOM'
    elif 1.3 < t < 1.45:
        return 'ALICE'
    elif 1.5 < t < 1.65:
        return 'JOHN'
    elif 1.7 < t < 1.85:
        return 'EDWARD'
    else:
        return 'ZERO'

model.visual = spa.State(dim)
model.input = spa.Input(visual=visual_input)


def visual_input2(t):
    if 0.1 < t < 0.25:
        return 'ALICE'
    elif 0.3 < t < 0.45:
        return 'JOHN'
    elif 0.5 < t < 0.65:
        return 'EDWARD'
    elif 0.7 < t < 0.85:
        return 'TOM'
    else:
        return 'ZERO'

model.visual2 = spa.State(dim)
model.input2 = spa.Input(visual2=visual_input2)

model.memory = nengo.networks.EnsembleArray(n_neurons=N, n_ensembles=dim)
model.memory_out = nengo.networks.EnsembleArray(n_neurons=N, n_ensembles=dim)
nengo.Connection(model.visual.output, model.memory.input)

model.error = nengo.networks.EnsembleArray(n_neurons=N, n_ensembles=dim)

model.learning_control = nengo.Node(output=lambda t: -1*int(t >= 1))

voja = nengo.Voja(post_tau=None, learning_rate=5e-2)
model.conn_in = list()
model.conn_out = list()
for i in range(dim):
    
    # Learn the encoders/keys
    # model.conn_in.append(
    #     nengo.Connection(model.memory_in.ensembles[i], model.memory.ensembles[i],
    #     synapse=None, learning_rule_type=voja)
    #     )
    
    nengo.Connection(model.visual2.output[i], model.error.ensembles[i], transform=-1)
    nengo.Connection(model.memory_out.ensembles[i], model.error.ensembles[i], transform=+1)
        
    # Learn the decoders/values, initialized to a null function
    model.conn_out.append(
        nengo.Connection(model.memory.ensembles[i], model.memory_out.ensembles[i],
        learning_rule_type=nengo.PES(1e-3), function=lambda x: np.zeros(1))
        )
    
    nengo.Connection(model.error.ensembles[i], model.conn_out[i].learning_rule)
    nengo.Connection(model.learning_control, model.error.ensembles[i].neurons, transform=[[10]]*N)

model.test = spa.State(dim)
nengo.Connection(model.memory_out.output, model.test.input)

Sim results:
learning phase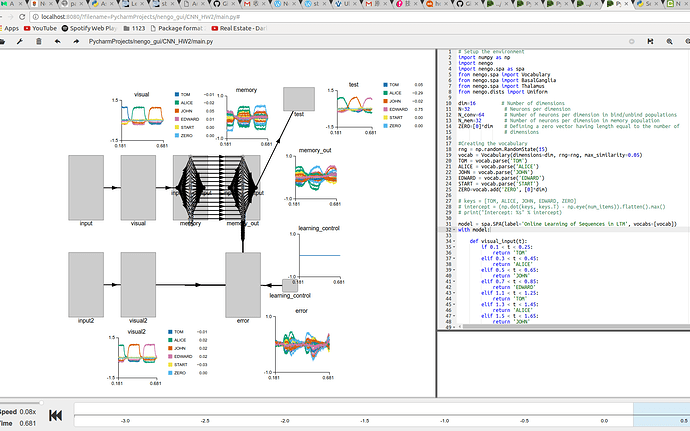 verifying phase