Hello,
I am trying to convert a Keras CNN model into a spiking one.
Following the tutorial (https://www.nengo.ai/nengo-dl/v3.3.0/examples/keras-to-snn.html), I changed the scale of the firing rate to improve the accuracy. Scaling the firing by 200 indeed results in good accuracy.
However, I observe a strange trend which is that increasing the scale of the firing rate decrease the total number of spikes (the sum of all spikes emitted at each layer) emitted by the network during inference.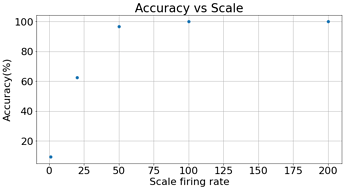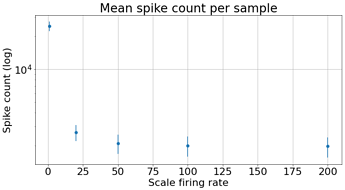 How can I interpret this? Why does the network emit less spikes instead of emitting more of them as the scale increases?
Thank you for your help!