I am trying to replicate the Keras to SNN on Loihi example on INRC. I am able to successfully run the MNIST model with RectifiedLinear() and SpikingRectifiedLinear() simulations, but when I try to use LoihiSpikingRectifiedLinear()…
run_network(
activation=nengo_loihi.neurons.LoihiSpikingRectifiedLinear(),
scale_firing_rates=100,
synapse=0.005,
)
… I get this error: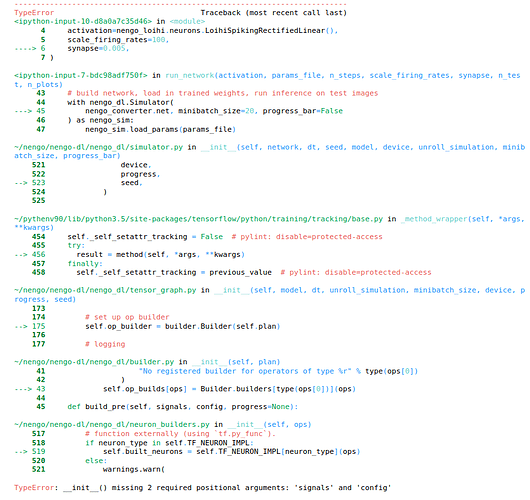 I am using the following versions of software:
Nengo 3.1.0.dev0
NengoDL 3.3.0.dev0
NengoLoihi 0.11.0.dev0
Python 3.5.2
NxSDK 0.9.0
What could be causing this error? Could it be the versioning of the Nengo tools? I upgraded to development versions in order to have the BlockShape functionality.
Thanks!
Kyle