Hello all,
Hope all's well! I have a question regarding the use of SPA for classifying numeric vectors into discrete class labels. The task I am trying to achieve is to classify EMG signals into one of two gestures (GEST1 and GEST2), where a network vocabulary contains the reference gesture that the network can use to compare an input signal against.
The input data which is fed to the network is structured as windows of semantic pointer vectors and it is passed to the network using the nengo_dl batch processing functionality. The semantic pointers were created using the nengo_spa.SemanticPointer() constructor.
My thinking was that if I create semantic pointer vectors which are encoding the EMG signal, that I could use the action selection mechanism provided by SPA to determine what the gesture is but I am encountering the problem where the network is having difficulty differentiating between the input semantic pointers.
I've attached a screenshot below showing the behaviour of the network for trying to classify between the 2 gestures, where the orange and blue lines represent the utility values calculated by the network for each window of input fed into the network.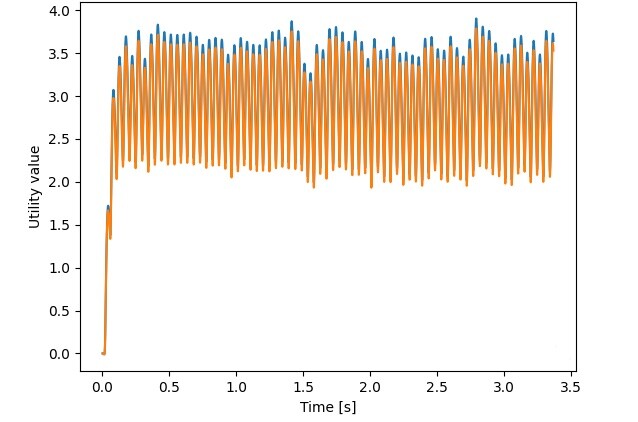 The code for creating the network vocabulary is pasted below for reference:
network_vocab = Vocabulary(dimensions=SPA_DIMENSIONS, max_similarity=0.1, pointer_gen=rng)
network_vocab.add('GEST1', gesture1_ref_window)
network_vocab.add('GEST2', gesture2_ref_window)

The code for my network is pasted below for reference:
 model = spa.Network(seed=seed, vocabs=[network_vocab])
    with model:
        """
        Network definition
        """
        input_node = nengo.Node(output=np.zeros(dimensions))
        input_sp = spa.SemanticPointer(input_node.output)

        input_transcode = spa.Transcode(input_sp, output_vocab=network_vocab)

        # Specify the modules to be used
        cortex = spa.State(network_vocab, dimensions)
        input_transcode >> cortex

        output = spa.State(network_vocab, dimensions)

        """
        Main network code
        """

        # Specify the action mapping
        with spa.ActionSelection() as action_sel:
            spa.ifmax("Gesture 1 Selection", spa.dot(cortex, network_vocab['GEST1']), spa.sym.GEST1 >> cortex)
            spa.ifmax("Gesture 2 Selection", spa.dot(cortex, network_vocab['GEST2']), spa.sym.GEST2 >> cortex)

I'm still quite new to SPA so apologies if this is a really trivial task. But from this, I have some questions:
Is there a preferred method of creating semantic pointers for numeric value vectors (for example, EMG data) or is the use of nengo_spa.SemanticPointer() ok to use?
When providing data for the action selection mechanism to use, do these data values have to be within a desired range? As I read on another forum post that the basal ganglia network prefers data within the range 0.3 - 1 and the documentation of nengo_spa.action_selection says that it implements a basal ganglia behind the scenes
Lastly, do you have any tips/advice for improving differentiation between signals using SPA? Possibly some parameter that should be tweaked or whether data should be formatted in such a way
Thank you