Hi,
I am playing around with MNIST and trying to represent the (28,28) images as a nengo.Ensemble with dimensions of 784.
# Building the network
model = nengo.Network(label="MNIST")

with model:
    vision_input = nengo.Node(lambda t: preprocess(X_train[int(t)]), label="Visual Input")
    input_ensemble = nengo.Ensemble(
        n_neurons=n_neurons,
        dimensions=input_size
    )
    nengo.Connection(
        vision_input, input_ensemble
    )

    input_probe = nengo.Probe(vision_input, synapse=0.01)
    ens1_probe = nengo.Probe(input_ensemble)

It should be a simple network where input_ensemble just try to represent the original vision_input. However, input_ensemble can't seem to represent this correctly (simulation ran for 5 seconds):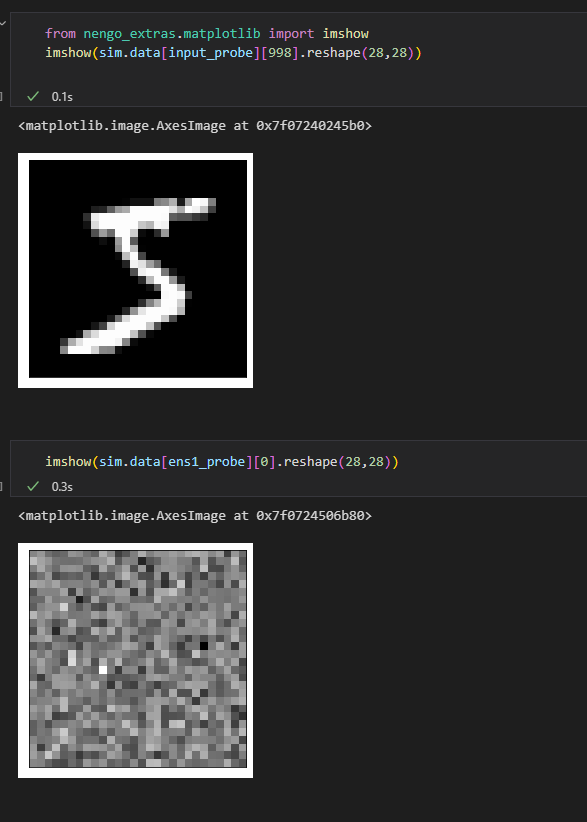 I have a hypothesis on what I could be doing wrong:
nengo.Ensemble default radius is 1, which I think is not correct since MNIST data range from 0 - 255. I tried changing radius to 255 which also yields the noisy image. I would like some advice on how to set the radius correctly, or perhaps I should normalize the MNIST data to unit vectors (or do some other preprocessing). I am using MNIST downloaded from tensorflow.keras.datasets.mnist as the nengo_extras dataset seems to be unreachable.