I'm trying to create a relaxation oscillator based upon the following two equations: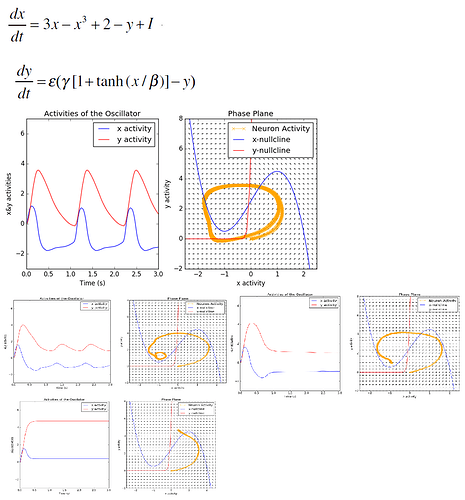 When the input I > 0, the equations above create an oscillation between -2 to 2 for x and 0 to 4 (or more depends on the input) for y.
When the input I<0, there is no oscillation.
I can construct the oscillator using MATLAB, but not with Nengo.
The problem with Nengo is that the ensemble does not always achieve the oscillation successfully.
Sometimes, y stucks at the maximum radius, and sometimes the oscillation traps at a random point.
here is my code:
import nengo
import numpy as np

I =.5
epsilon=.2
gamma=6.0
beta=0.1

tau=.6
syn = 0.05

model = nengo.Network(label='Relaxation Oscillator')
with model:
    inp = nengo.Node(I)
    oscillator = nengo.Ensemble(n_neurons= 150,
                                dimensions=2,
                                radius=4,
                                neuron_type= nengo.LIFRate(tau_rc=0.02, tau_ref=0.002))

     # osc to osc connection
    def feedback(x):
        x,y = x
        dx =  3 * x - x**3 + 2 - y
        dy = epsilon * (gamma * (1 + np.tanh(x / beta)) - y)
        return [tau*dx+x,tau*dy+y]
    nengo.Connection(oscillator, oscillator, function=feedback, synapse=syn)
    # inp to osc connection
    nengo.Connection(inp,oscillator[0], transform = tau)

Where did I do wrong?