Hello,
https://www.nengo.ai/nengo/examples/basic/2d-representation.html
https://www.nengo.ai/nengo-fpga/examples/notebooks/04-oscillator.html
I am using these two nengo examples as a guide to creating a 2D Ensemble that can be used to represent 2 different inputs, each of specified dimensions, testing with inputs of 16 dimensions. There is a fpgapesensemble that has a feedback and is being used as a memory aggregator, which is being passed Semantic Pointers as multi dimensional vectors from a stimulus. We are trying to connect the input node before the memory aggregator as well as the memory aggregator itself to a 2D Ensemble, but I have run into 2 problems so far.
In the 2D representation example linked above, the inputs are 1 dimensional. When I try to input data that is 16 dimensions into the 2D representation example, I get errors unless the dimensions of the Ensemble is 16 as well. How can I create an Ensemble or Node that can take the multi dimensional data from the stimulus and be able to represent the separate Connections?

Also, the fpgapesensemble does not support indexing, which is used in the example. Can I use a fpgapesensemble as an object with 2 separate inputs of multiple dimensions each?
Here are pictures of the nengogui representation of the network to help explain better what we are trying to accomplish. The normal ensemble labeled anom_ens is the location I want to create the 2 Dimensional Ensemble to represent the two incoming connections, and the inputs from the encoder are 16 dimensional vectors.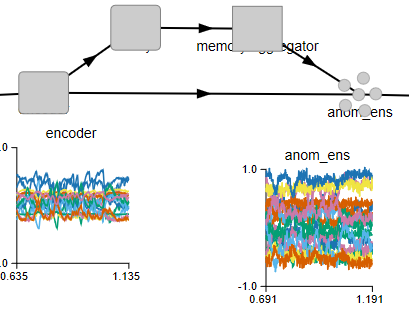 Let me know what more information you need in order to advise me on how to create this type of model.
Thanks
Daniel